Microsoft released a tool that lets you move your content licenses from one console to another. This is a great thing for me because my 5 previous repairs (between Christmas 2005 and Christmas 2007) left me with content licensed to a mish mash of consoles, and a lot of content I purchased not tied to the console I'm using now, so I just went through the process.
Smooth, except for one part. Here are the last 3 steps of the migration process:
Go to Xbox LIVE Marketplace and select Account Management, Download History.
Select an item and then select Download Again.
Repeat step 5 for each item in your download history.
Yeah, um, about that last step, repeat for each item in my download history?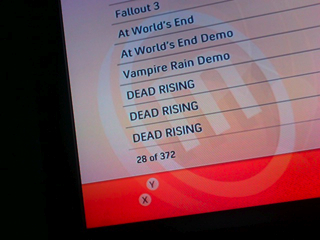 That'll take a while.